To include online event details in a new event, first enter the basic event details in the 'Required Info' panel (event manager, event name, start and end date and time).
Once you save this initial info, 'More Event Info' panel appears*.
*(When adding the info to existing events, these optional fields are already visible)
By default, the 'Add Venue Details' button is active. You can click this and add 'Online Meeting' or 'Zoom Meeting' or something similar into the 'Venue Name' field if you wish, although this is optional.
For an online event, click the 'Online Event' checkbox. This will activate the Add Online Event Details button. Click this button to add the details of your online meeting:
There are four input fields for online events: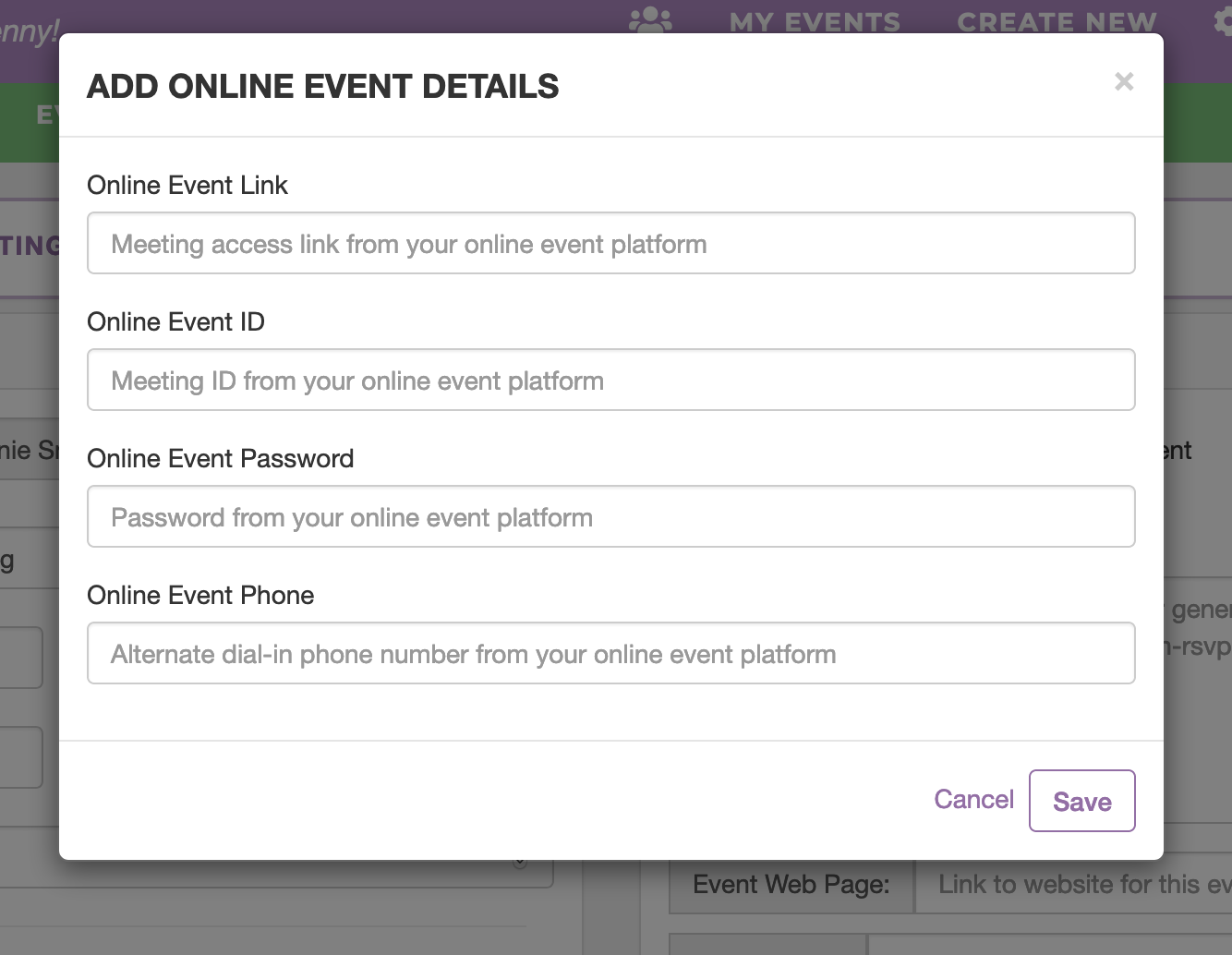 Online Event Link: here you can input the web link your participants will use to access the online event you're running
Online Event ID: here you can input the meeting ID or access code your participants will need to join the event / meeting
Online Event Password: here you can input any additional security password(s) your participants will need to join the event
Online Event Phone: here you can add optional dial-in number(s) for your event.
Add your relevant online event information into these four fields and then click 'Save'.
Now, whenever any of your invitees accepts a Seatrobot invite to your meeting, these details will be front-and-center in their personal Seatrobot registration pages.

Additionally, the 'Add To Calendar' button on their registration page will automatically add your online meeting information to their calendars, formatted for them to access the meeting direct from their calendar client. (For security purposes, the online meeting login details do not appear inside the Add To Calendar buttons on the public Open Registration or Tickets pages)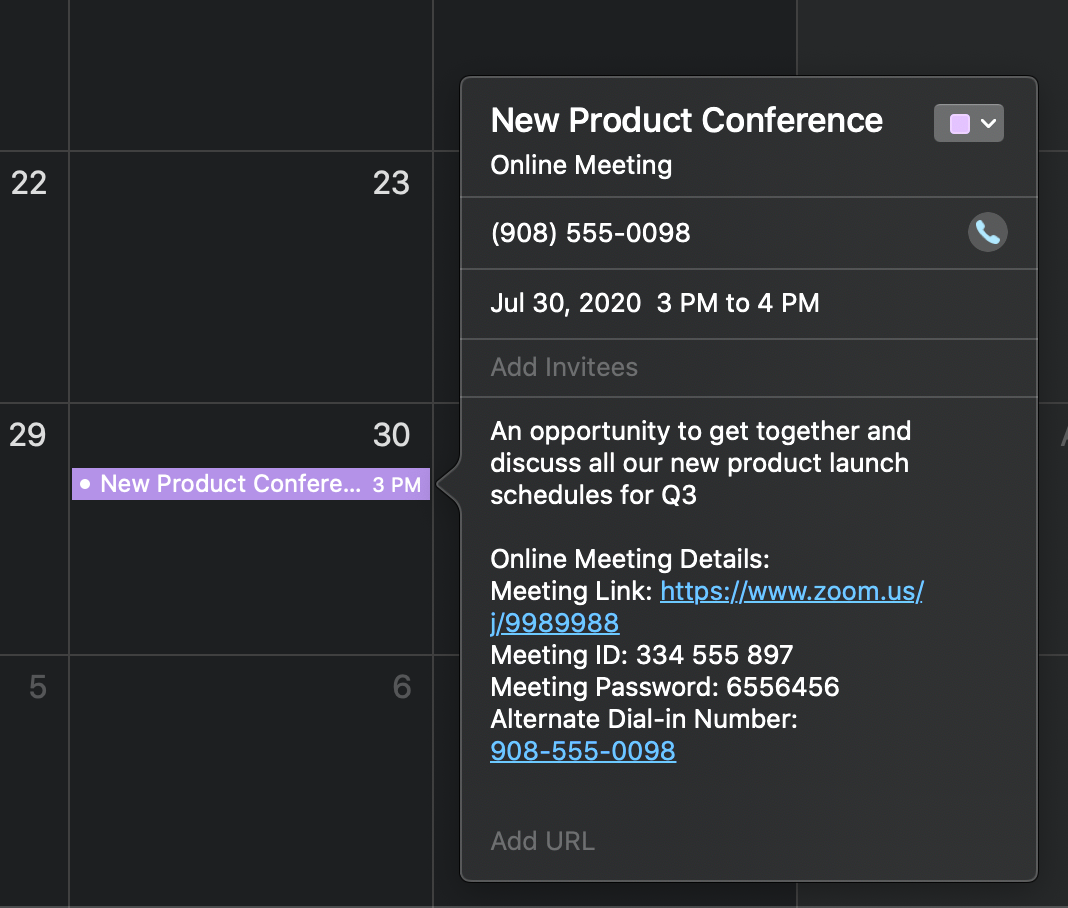 For online events we recommend that you set the 'Cut-Off' time of your event to the end-time of your online event, rather than the start-time, as is the default setting. This will enable your registered guests to access their personal registration pages while the event is in progress if they need to retrieve the online login info etc.
Setting the event cut-off time is done by clicking the 'Manage Event Cut-Off' button in 'Advanced' panel in Event Setup > Event Info.
Your online event details can also be inserted into your default invites and confirmation emails using the 'Online Event Login Details' macro in the email editor. Position your cursor anywhere in your email you want the details to appear, then scroll down the 'Event Fields' dropdown until you see the 'Online Event Login Details' field. Clicking it inserts the macro into your email. Any / all of the Online Event Details fields you entered information into in your event setup will appear, pre-formatted, wherever this macro appears in your email.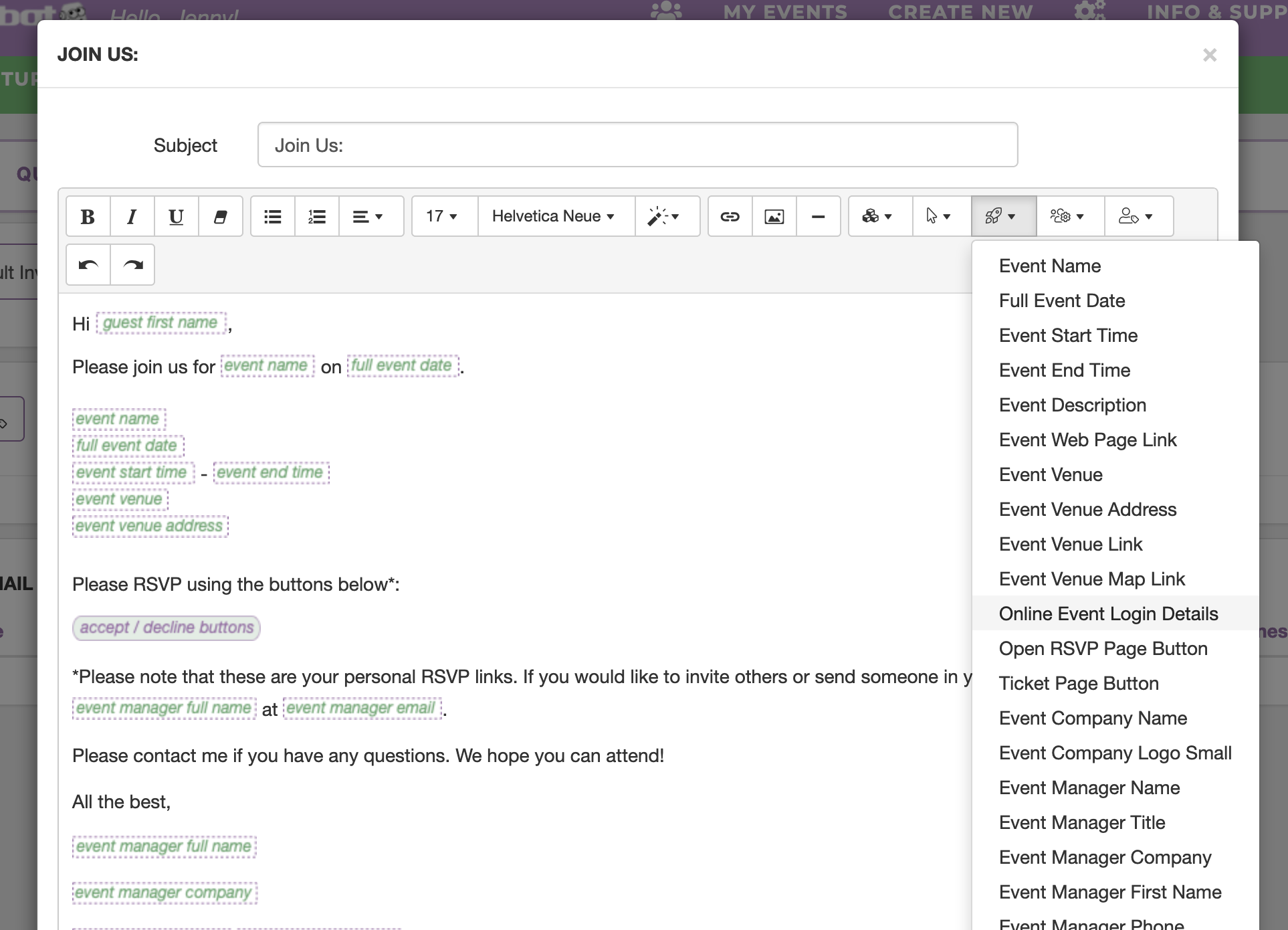 A suggested option is to include the Online Event Details macro into your default confirmation email. Anyone who accepts your invite to the meeting will automatically receive the login details in their confirmation.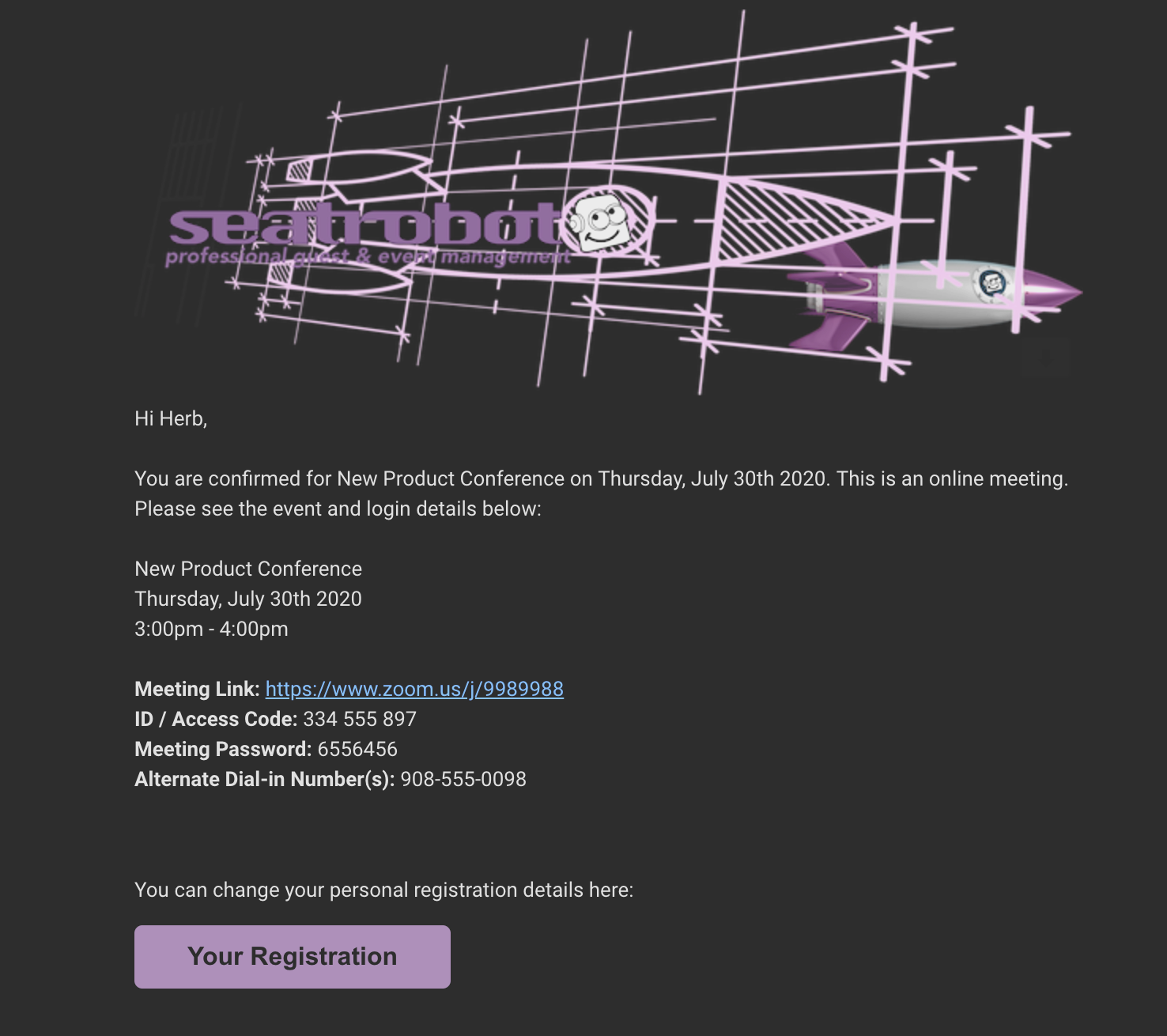 You can also send reminders to your participants, including a link to these pages, at any time. The Online Event Details macro is also available in the Custom Email editor in the Emails page
Participants who register via your optional Seatrobot Open Registration page will see the login details if you include them in the default confirmation email and can also access their registration page and Add To Calendar link via the 'Your Registration' link in that email.